Our Portfolio of Products
Catering to the diverse product development needs of different companies, we offer three FastFit360 Cloud solutions and three FastFit® Studio solutions. Our most popular combination is the FastFit® Large Apparel Studio combined with the FastFit360 Dedicated Cloud. However, our clients have creative flexibility to pick and choose the combination which best serves their unique workflow and sample management needs.
All of our FastFit360 software delivers our e-sample® technology for streamlined, clearer, global communications and powerful analytics for tracking and measuring a wide array of product development metrics.

FastFit360 Cloud Features
Easy Annotation and Communication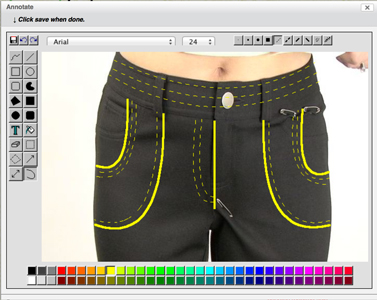 FastFit360 Cloud provides tools for easily annotating product images and communicating in real-time with methods similar to those of social media. Our clients have confirmed: These annotated product images are a fantastic way to communicate desired changes and sample corrections to partners around the global. A picture is truly worth a thousand words in a tech pack. FastFit360's annotation technology lets you easily "translate" your message into the universal native language — pictures.
Does this time-consuming scenario sound familiar? You take digital photos, download them to your computer, wait patiently for Photoshop or Illustrator to open, and then tweak the images with your notes? Then you open your email, searching for the photos you just annotated, attach them to the email, click send and … "BEEP!" … the email is too large to send.
NO MORE! FastFit360 Cloud's annotation tool is online and integrated so you can upload ANY image, ANY time and annotate it immediately. There is no need to open another program or to email files. That annotated image is posted to the sample you are correcting — with all of the comments married together. Sound amazing? It is.
Annotation and visual communication functionality is included with all of FastFit360 offerings: FastFit360 Dedicated Cloud, FastFit360 Multi-Tenant Cloud and FastFit360 Enterprise.

Images and Documents: Freedom and Flexibility
You can upload ANY image from ANY source to FastFit360 Cloud, including JPEGS. Whether the images are from your iPhone or digital camera or other device, you'll be able to instantly access them and work with them.
Our FastFit® Studio presents a wonderful way to capture images with consistency and high quality, regardless of your global location. However, we recognize not every firm can make the investment, or that members of your team might want to communicate images collected in other ways.
Images aren't the only type of product information we help you communicate, visually and globally. What else does your company currently send via email? Documents such as tech packs, BOMs, specifications? Do you have long email trails and difficulty sending big files? We have the solution! With FastFit360 Cloud, you can upload not just product images but also ANY related documents, too! Whether it's an inline audit report, spec sheet or sketch, we support all file sizes, large and small, including PDF, XLS, DOC, DOCX, RTF, AI, PSD and more. Just try it! It's amazing.
  Burst for Total Mobility
Fully enabled for mobility, our Burst features allow apparel professionals to capture videos with their mobile devices, and upload video files to FastFit360's cloud computing platform. Users are then seamlessly presented with frames they wish to sort and annotate, enabling them to focus on product issues and share visual data with colleagues and business partners.
The name "Burst" harkens to the burst mode of photography for capturing multiple photographs in quick succession. In a unique technological development, FastFit360 has applied the burst concept to video.
Burst is ideal for capturing on-the-fly videos from the runway to the street, from the fitting room to nature – anywhere, anytime the user encounters imagery for design inspiration, construction ideas, fit guidance, or color and trend direction.
Analytics
In the fast-paced world of product development, time is money. We recognize our clients' demand for accurate, real-time visibility into the status of styles — by season and by vendor. FastFit360 Analytics, a standard feature of our FastFit360 solution, provides dashboard reports of a wide array of metrics with the click of a button. Need a tool for vendor rating? Look no further. Just a few of the reports from FastFit360 Analytics include:
Average number of prototypes per style
Number of dropped styles
Average number of prototypes per dropped style
Number of prototypes prior to style approval
Prototype transit time
Sample turnaround time
Average development time by factory
Are you ready for gain actionable insight into your product development lead times and vendor performance? Activate FastFit360 Analytics today.