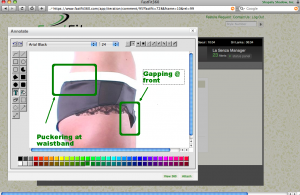 FastFit360 provides the ability to easily annotate on any image of the product which is easily translatable to native language.  A picture is truly worth a thousand words in a tech pack.
Tired of taking digital photos, downloading them to your computer in those crazy unorganized formats, waiting patiently for Photoshop or Illustrator to open, then tweaking the images for so long you realize 30 minutes just went by… THEN, opening up your email, searching for those photos you just annotated, attaching them to the email, clicking send and BEEP! the email is too large to send…
NO MORE!  FastFit360 has an Online integrated annotation tool so you can upload ANY image, ANYTIME and annotate to your hearts content.  THEN, that annotated image is posted to the sample you are correcting with all of the comments married together.  Sound amazing?  It is.
Annotation is associated with all of our products: Dedicated, Multi-Tenant & Enterprise.
WANT LINKS:
Please contact us for more information.